The project will support valorise intangible cultural heritage and look for solutions on how to make local projects sustainable.
Il progetto ARTISTIC: competenze imprenditoriali e crowdfunding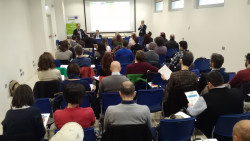 Evento del 12 aprile 2019 in Camera di Commercio Verona, slide del dott. Marco Braga, project manager ARTISTIC. Breve presentazione del progetto e dei primi risultati dell'indagine territoriale.
Created at: 16/04/2019
Kind: Document
Language:
Need: Agenda